2018-02-21
The underwear of the newborn: between body and vest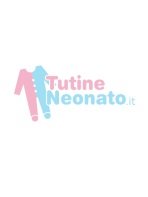 The baby's underwear should be comfortable and breathable. It must not pull or tighten. Do not use force to put on clothing when dressing. If they do not fit, you should replace them with a more comfortable and more practical model.
Whole bodies, for example, generally have buttons to allow you to remove the diaper with ease without having to strip the newborn completely, so they are comfortable and practical in the same way as intimate broken suits (vest and bottom).
Remember, however, that until the child reaches the age of one he doesn't like getting dressed, so the change of dress must be as serene, fast and smooth as possible. If the vest or body is tightened on the neck, the friction on the face and neck of the child will be unpleasant and could become enemies for your child. Also, if your newborn baby has a big head we suggest you to choose the sleeveless vests, wider as a crew neck and very practical.
It is important, therefore, not to randomly choose the underwear just because there is a design more cute or nice that you like. The newborn must not stress at all during the dressing phase or that moment will become a real nightmare for him and for you parents.
In addition, trying various garments is the perfect solution to understand those with which you moms are better off, but only time will reveal what are the favorites of your little one.
Lucia Franco
Share on
---
Be the first to comment this article!